HOW RF MICRONEEDLING WORKS
Before

After

Before

After

Before

After

Before

After

Before

After

Before

After
OVERVIEW
Radiofrequency microneedling (RF microneedling) is a non-invasive skin treatment. The goal of this procedure is to stimulate skin rejuvenation and minimize fine lines, large pores, wrinkles and stretch marks. Clients who choose RF microneedling treatments often experience a nearly painless procedure that enhances the skin's tone and texture. THIS PROCEDURE WORKS ON ALL SKIN TYPES. 
Demand for non-surgical aesthetic procedures with little to no downtime is on the rise. More than 70% of patients are bothered by signs of aging such as fine lines and wrinkles as well as skin texture and discoloration.1
Secret RF is a novel fractional radio frequency (RF) microneedling system for tissue coagulation and hemostasis designed to stimulate and remodel collagen and address the common signs of aging. It is ideally suited for use on patients who wish to revitalize and refresh the appearance of their skin on all skin types. By adjusting the micro-needles, Secret RF can deliver energy at various depths, so that treatments can be tailored to address each patient's individual concerns such as fine lines, wrinkles, acne scars, and striae at the depth required.
APPLICATIONS
Fine lines/wrinkles
Scarring/acne scars
Striae
SECRET RF TECHNOLOGY
Secret RF's unique technology and customized delivery of energy enables providers to tailor treatments for a variety of skin concerns on all skin types.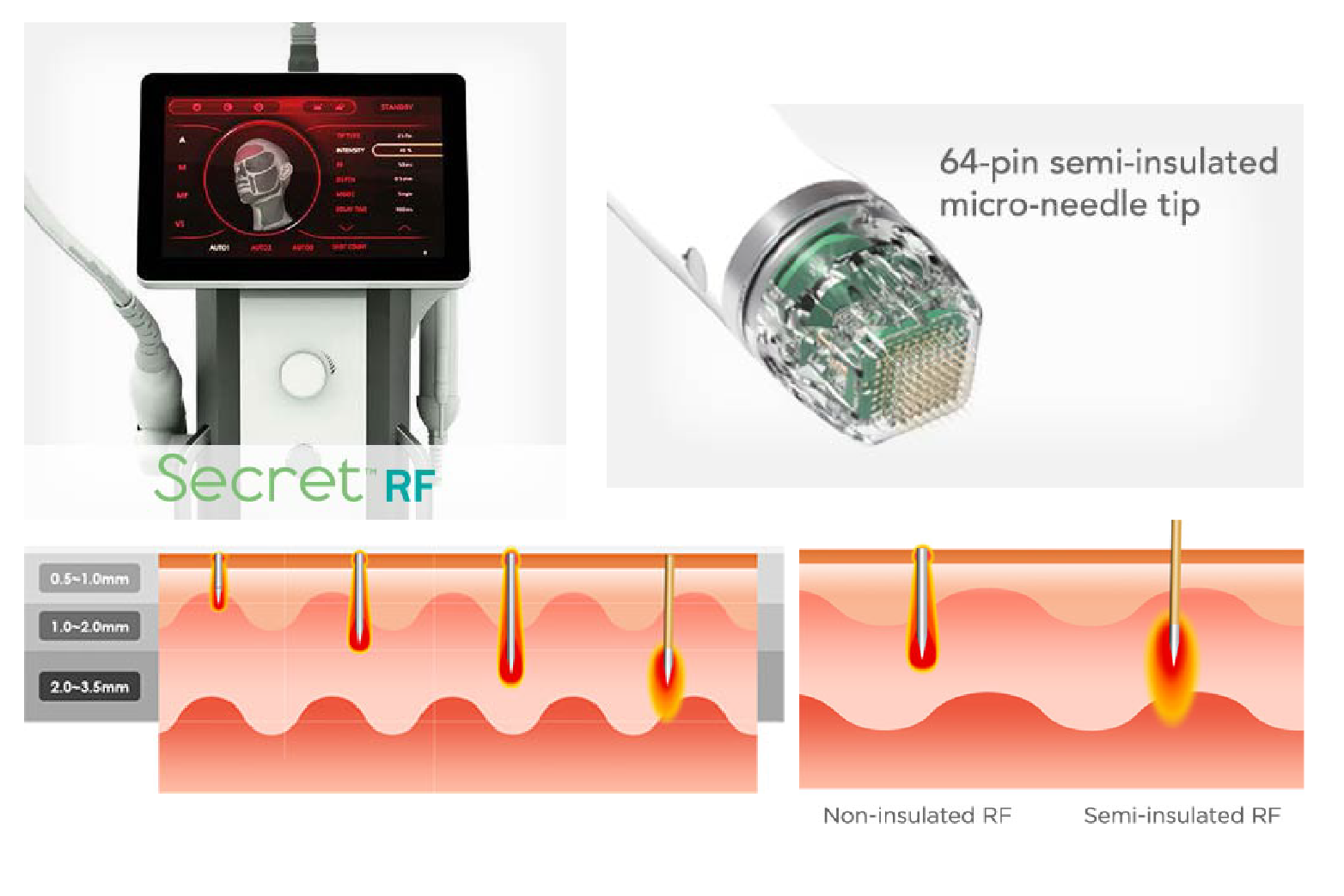 Customized Dermal Remodeling
Secret RF induces dermal remodeling by applying precisely controlled RF energy directly into various depths of skin – from 0.5-3.5 mm – with minimally invasive micro-needles to spare the epidermis and reduce patient downtime.
Adjustable Needle Depth
Secret RF micro-needling features adjustable needle penetration ranging from 0.5-3.5 mm offering customized dermal remodeling based on the area and the depth of the condition being treated.
Selectable Needle Type
The Secret RF micro-needling device provides a unique combination of non-insulated or semi-insulated needles that let you treat a wide range of applications for all skin types, including challenging skin.
SECRET RF HANDPIECES
Secret RF features dual handpieces and two sizes of treatment tips – 25 and 64 pin – for fast treatments on the face and body. This allows you to treat patients quickly and efficiently in under 20 minutes.
Secret RF's 64-pin handpiece covers the largest treatment area on the market for faster, more efficient treatments. Ideal for treatments on the face, neck, chest, and body, the 64-pin handpiece features semi-insulated needles for precise placement of energy.
HOW TO PREPARE
Avoid alcohol, non-steroidal anti-inflammatory medication and products containing salicylic acid. (This ingredient is found in some facial cleansers.) Doing this may prevent bruising.
Let your physician know if you are taking or have recently taken blood thinning medication. Taking these may increase bruising or bleeding post-treatment.
WHAT TO EXPECT
After your consultation, you will receive topical numbing and a procedure that lasts about an hour. For optimal results, we typically recommend two to four treatments.
One of the benefits of RF microneedling is minimal downtime after the procedure, and most patients resume a normal routine within 24 hours. Some patients may experience mild side effects that include: mild pinpoint bleeding, slight bruising and temporary skin reddening.
RESULTS
After the first treatment, collagen production increases and the skin continues to improve. This is why patients often experience the best results three to six months after the first procedure. Your physician will recommend a treatment plan based on your unique consultation.